Harry Potter: Live the Magic by Coka-Cola
A,B
Animated Sign-Language dictionary
Arcade Pod from Connor
Awesome Firework display: Just click
Backgrounds and Graphics for Webpages
Ben and Jerry Fun Ice Cream Site
Buttons: a great site for fabulous ones. Thanks Eric
C
D
DiamondMine Fun New Game
Doo-Wop Horses: click on and off to harmonize
Discover Engineering- Build a Bridge
Disney Entertainment thanks Brandon
Disney Toonmaker- Thanks Ramzi
First Name Fun. What does your name mean?
Hershey's Chocolate Recipe Page
Incredimail and Upgrade : Free Download
J
Jellybelly Samples Jellybelly Samples
joy machine Games
Just for Fun- not to take seriously
K-L
Midi Music Sites:
Nickelodeon Brandon says it's great fun
Outlook Express Stationery and Directions
Soda Constructor: Fun Site Recommended by Jo
Trak-Match Game of Concentration
Virtual Fish New
Cards
Blue Mountain Cards

Fun and Silly Sites that Kids like

Things for Friends

JAVA Sites

Another Special Site from the Same Web Artist

Awakening (java script for no copying)

Inspirational: "Interview with God"

Check out the stereograms and puzzles on the

Subject Helpers Page: Resource II

Also See "Optical Illusions" Above for more fun things
Find the 9 people in the picture!!

If you find 6, you have an ordinary
power of observation.

Find 7, you have above average power of observation.

Find 8, you are very observant.
Congratulate yourself.

Find 9, you are extremely observant.
Very intuitive and creative.

You can rival the observant power of Sherlock Holmes

I am sorry, I do not know who the artist is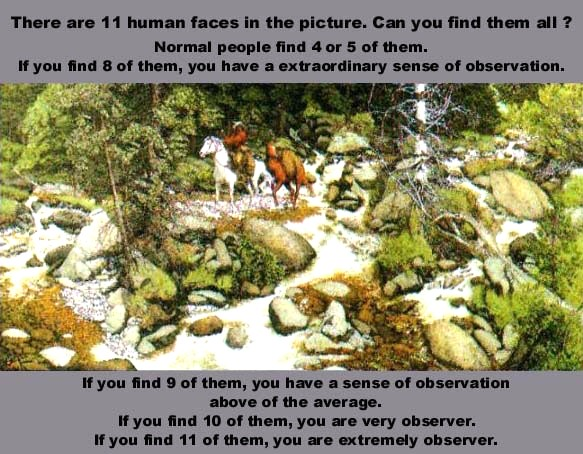 Imagine. . . .









There is a bank that credits your
account each morning with $86,400.
It carries over no balance from day to day.
Every evening deletes whatever part of the
balance you failed to use during the day. What
would you do? Draw out ALL OF IT, of
course!!!!




Each of us has such a bank. Its name is TIME.
Every morning, it credits you with 86,400
seconds. Every night it writes off, as lost,
whatever of this you have failed to invest to good
purpose. It carries over no balance. It allows no
overdraft.



Each day it opens a new account for you.
Each night it burns the remains of the day.
If you fail to use the day's deposits, the
loss is yours.



There is no going back. There is no
drawing against the "tomorrow."
You must live in the present on today's
deposits. Invest it so as to get from it the
utmost in health, happiness, and success!
The clock is running. Make the most of today.


To realize the value of ONE YEAR,
ask a student who failed a grade.



To realize the value of ONE MONTH,
ask a mother who gave birth to a premature
baby.



To realize the value of ONE WEEK,
ask the editor of a weekly newspaper.



To realize the ! value of ONE HOUR,
ask the lovers who! are waiting to meet.



To realize the value of ONE MINUTE,
ask a person who missed the train.



To realize the value of ONE-SECOND,
ask a person who just avoided an accident.



To realize the value of ONE MILLISECOND,
ask the person who won a silver medal in the
Olympics.



Treasure every moment that you have! And
treasure it more because you shared it with
someone special, special enough to spend your
time.



And remember that time waits for no one.
Yesterday is history. Tomorrow is a mystery.
Today is a gift. That's why it's called the
present!!!



Friends are a very rare jewel, indeed.
They make you smile and encourage you to
succeed. They lend an ear, they share a word
of praise, and they always want to open their
heart to us.





I don't know who to credit with this, I am sorry.
Games for Home with Parent Permission
Candy Stand Games Pat Recommends
Game Revolution Thanks Pat, our local gamer
Ian's Pick: Coffee Break Arcade